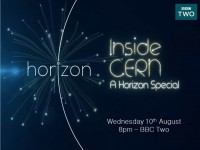 The BBC Horizon Special "Inside Cern" will transmit in the UK on Wednesday 10th August at 8pm on BBC 2.
The film features and interview with Peter Higgs that was recorded in the Kelvin Room at the Royal Society of Edinburgh on Monday 18 July.
The film will also be viewable in the BBC iPlayer after broadcast.