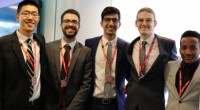 The University of Edinburgh team of physicists went on to win third place in the final gaining a prize of £250 and beating a number of business teams from universities across the UK. A real coup for the School of Physics and Astronomy the University of Edinburgh.
The IBM Universities Business Challenge (UBC) Worldwide is the world's longest established undergraduate simulation-based competition designed to develop employability and enterprise skills.
Facilitated by Susan Bird (Careers Consultant, School of Physics and Astronomy), the School submitted two teams, one team making the semi-final in Edinburgh. After a keynote introduction from Shelagh Green, (Director, Careers Service), the teams did a series of intensive, timed business simulations culminating in a 60 second innovation pitch.
The Physics team – students Imran Marwat (team leader), Fidel Elie, Ziyi Zhang, Adamos Spanashis and Brandon Christman – not only won 2nd place at the semi-final and went on to win third place in the final - but also won Best Business Idea on the day, beating 19 other teams from other UK universities. 
The School funded the team's travel & accommodation expenses to the London final, the team was mentored by Mike Ross from Standard Life Investments & supported by the Careers Service – a good example of how we work with Schools & industry partners to support the employability and professional development of our science students.
Here's how team member Ziyi Zhang reflected on the Challenge:

"Thank you for being at the competition and supporting us throughout this experience. I realized studying physics not only made us "book smart" but also taught us critical and logical thinking which can be applied beyond academics"
"Many congratulations to Imran, Fidel, Ziyi, Adamos and Brandon for a truly impressive result in this prestigious competition. It's a great achievement by everyone in the team and is a clear demonstration that the skills they've developed through their time at university have applicability far beyond physics and astronomy." Judy Hardy, Director of Teaching