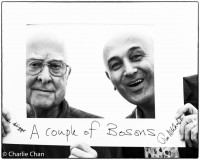 Prof. Peter Higgs was interviewed by Jim Al-Khalili on his way to Nobel Week in Stockholm. The resulting programme is the first in the new series of BBC Radio 4's "The Life Scientific", which will be aired at 9am on BBC Radio 4 on 18th February, 2014.

The interview will be available here after it has been broadcast: http://www.bbc.co.uk/programmes/b03vdx7m
You can read more on Jim Al-Khalili's blog.