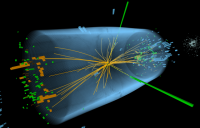 A new online course which offers people the chance to study the work of Nobel Prize-winning physicist Professor Peter Higgs is being offered.
The free seven-week course, entitled The Discovery of the Higgs boson, launched on Monday, 10 February and has already attracted more than 10,000 learners to register.
The course explores the scientific advancements that have led to the building of the Large Hadron Collider in Switzerland, and to the detection of the boson.
It features interviews with Prof. Higgs and filmed lectures by a team of world-class physicists from the School of Physics & Astronomy, led by Prof. Luigi del Debbio and Dr Christos Leonidopoulos and with support from 10 PhD students acting as teaching assistants. Students can debate what they have seen using dedicated online discussion spaces, as well as social media.
"We are extremely excited to be able to offer to a worldwide audience of online learners a unique insight into the work of Peter Higgs. This course, which describes how Peter's ideas have contributed to our current understanding of the physical phenomena at the smallest scales, is the first Massive Open Online Course (MOOC) to be offered by The University via the FutureLearn platform." Christos Leonidopoulos, Institute for Particle and Nuclear Physics
"We hope that this MOOC will help us share with people from all around the world, and from all walks of life, the excitement of the Higgs discovery, and some of the profound insights it gives us into the inner workings of the universe we live in." Richard Ball, Director of the Higgs Centre
"Professor Higgs' research has provided us with profound insight into the building blocks of the Universe and this course will allow anyone with a computer and access to the web to take part in the exciting and revolutionary times that we live in." Prof. Arthur Trew, Head of School of Physics and Astronomy