Physics students' success in Student Employee of the Year awards
Physics students' success in Student Employee of the Year awards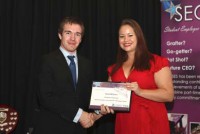 David McDwyer wins top Off-Campus Student Employee prize and Eimear O'Carroll is runner-up International Student Employee.
Off-Campus Student Employee of the Year: David McDwyer
David won recognition for setting up an undergraduate Tutors scheme with the support of the University of Edinburgh. He was nominated by Charlie Kennard of TeachFirst, who said:
'David has demonstrated immense innovation by creating an 'Undergraduate Tutoring Scheme' at the University of Edinburgh. The scheme in its first year has placed 12 Physics students into some of the most deprived schools across Scotland where they can share their knowledge and help to raise the aspirations and achievement of some of the poorest children in Scotland.
'David has helped raise the profile of TeachFirst enormously on campus through organising the University Tutoring scheme. David's commitment to the cause has also seen David attend, organise and run various recruitment events on campus for TeachFirst. TeachFirst has successfully recruited a Scottish record of 30 top graduates from the University of Edinburgh this year. This would not have been possible had it not been for David's considerable passion and commitment for the cause. '
Runner-up International Student Employee of the Year: Eimear O'Carroll
Eimear O'Carroll was nominated by Brian Baillie of LAUNCH.ed. for her work in helping promote entrepreneurship and enterprise throughout the student body, representing both the Scottish Institute for Enterprise and LAUNCH.ed at the University. Eimear also runs her own business, Restored Hearing, which provides web applications that reduce tinnitus.
Brian said of Eimear: 'She is driven, highly motivated and determined, but also very approachable, friendly and amicable. She has taken the initiative on many occasions, driving forward often complex issues and taking responsibility for all her actions. Highly competitive, she is determined not just to succeed, but to excel. And Eimear does all this whilst in 2nd year of studies, running her own highly successful business and taking on leading roles in some of the University societies. Eimear is a credit to both our organisations and we are delighted to have her on board.'
"Our students offer an amazing talent pool for local business whether they are looking for part-time staff to meet peaks in demand or graduate talent to help the organisations grow. I hope the recognition of David and Eimear's successes will encourage other employers to consider recruiting at Edinburgh."

Shelagh Green, director of the University's Careers Service.
Student Employees of the Year Award (SEOTY)
The SEOTY Off Campus Student Employee of the Year award is co-ordinated on an annual bases by the National Association of Student Employment Services (NASES). The aim of this national award is to recognise and promote the outstanding contributions and achievements of students who effectively combine part-time work with their study commitments.
This article was published on .