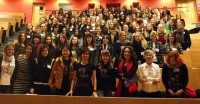 In March 2016, six undergraduate students from the College of Science & Engineering attended the Conference for Undergraduate Women in Physics held at the University of Oxford. Now in its second year, the Conference aims to help undergraduate women continue in physics by showcasing options for their educational and professional futures.
The Conference included academic and career panel sessions, skills workshops, a tour of facilities at the Rutherford Appleton Laboratory, talks from speakers including Prof Christine Davies, Prof Fay Dowker and Prof Daniela Bortoletto, and a number of social events. Year 3 student Emma Stam tells us about the event.
"Before attending the conference, I had been worried that all of the talks would be from women telling us all how hard being in a STEM field is for women working in the industry.  However, the message seemed to be more about having confidence in your own abilities which seems to be something that women struggle with more than men.
"Throughout the conference, we were given information about various internships that were available with the companies that the speakers worked for or the laboratories that we toured and I applied to three summer internships in RAL that I wouldn't have known about or considered before this conference.  Also, during our visit to RAL, it was interesting to see people from a range of disciplines all working in one place.  As I have an interest in biology, I got the chance learn about career opportunities that involved both physics and biology.
"My confidence in myself was definitely boosted after the Conference, by hearing stories that I could relate to both from the other girls that attended the Conference and the guest speakers."
The Schools of Physics & Astronomy and Chemistry covered the cost for these students to travel to Oxford for the Conference.
"If funding hadn't have been provided, I don't think I would have been able to afford to attend the conference, so the fact that Edinburgh paid for travel for all of us is really appreciated!  We were told that we were the largest group of girls from one single university that had ever attended the conference!"