Industry-sponsored PhD student wins prize for best talk
Industry-sponsored PhD student wins prize for best talk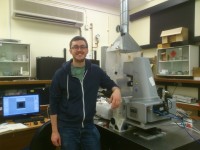 Ben Guy gave an 'excellent talk, very well judged for the audience and exceptionally well delivered'.
Doing high-quality basic science that also has industrial impact is a tall order for even the most experienced academics. School postgraduate student Ben Guy has not only managed this, but he's also persuaded senior academics and industrial scientists that he is a superb communicator.
Ben works to understand the flow of concentrated suspensions of particles in liquids. Such 'pastes' are relevant for ceramics manufacturers because every ceramic product starts life as a paste of refractory particles. The paste needs to flow and deform to order. In traditional pottery, it is moulded by hand. In industry, the paste can be pumped into a mould with complex shape, or extruded (eg into a honeycomb catalyst support), or, in the latest development, 3D-printed into various micro-components. It turns out that the flow of concentrated suspensions with particle sizes in the range of most interest to many industrial applications, 1-10 μm, is not at all well understood.
Ben has discovered that the deformation and flow ('rheology') of pastes with particles in the 1-10 μm range is dominated by the ubiquitous phenomenon of shear thickening – an increase in suspension viscosity with applied shear stress when the latter increases beyond a critical value. On the fundamental level, Ben's data provide evidence for the correctness of a theory of shear thickening recently proposed by Mike Cates and Mathieu Wyart (his collaborator at New York University), which suggests that shear thickening is due to the formation of frictional contacts between particles at high applied stress. Practically, Ben has established a framework for industrialists to 'navigate' the complex phenomenology they observe in their real-life materials.
For Ben's work to make a real impact, he has not only to publish it in scholarly journals, but also communicate it to industrialists directly, translating academic jargon into industrial language and embedding the results in relevant practical contexts.
Every year, Ben's industrial sponsor Johnson Matthey holds a conference where 200 industrial and academic scientists come together to hear their final-year sponsored PhD students present their work, and to look at posters from their earlier-year colleagues.
Ben has already presented two posters previously. This year, he gave a talk on his rheology work to an audience of which some 70% were catalyst chemists. The communication challenge he faced was therefore rather more severe than most of the other speakers, having to bridge between academia and industry, but also between disciplines (physics and chemistry). He succeeded magnificently, winning the prize for the best talk amongst 30 of his peers. Prof. Hugh Stitt, F.R.Eng, one of JM's scientific consultants, told Ben that he gave an 'excellent talk, very well judged for the audience and exceptionally well delivered'.
"I am both pleased and surprised to receive this award – industrial scientists and academics really do think differently! The industrial experience has been a challenging but rewarding one and should add an extra dimension to my thesis." Ben Guy
Ben is sponsored by UK-based international chemicals company and ceramics manufacturer Johnson Matthey (JM).
This article was published on .