School awarded Athena SWAN Silver status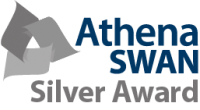 The School has been awarded Athena SWAN Silver status in recognition of its ongoing efforts to create a more equitable workplace.
"I am absolutely delighted that we have been awarded Athena SWAN Silver status. This award follows our gaining Juno Champion Status earlier this year.

"Both awards affirm the progress we have made in ensuring all staff and students in the School can flourish because, although they focus on stemming the attrition of women from science, we hope our ongoing efforts benefit everyone. We will continue to work to make our School a place where everyone feels supported and valued for their contribution.""

Prof. Cait MacPhee, Institute for Condensed Matter and Complex Systems
Athena SWAN Charter
The Athena SWAN award recognises commitment to advancing women's careers in science, technology, engineering, maths and medicine (STEMM) employment in higher education and research.
ECU's Athena SWAN Charter has been developed to encourage and recognise commitment to combating this underrepresentation and advancing the careers of women in STEMM research and academia.
It covers:
Women in academic roles
Progression of students into academia
Working environment for all staff
This article was published on .