3 Minute Thesis competition
3 Minute Thesis competition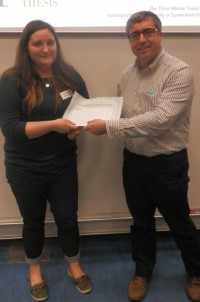 Congratulations to Mary-Ellen Donnelly, a 4th-year PhD student in Condensed Matter, who was the third-place winner of the College of Science & Engineering heat of the 3 Minute Thesis competition.  
Mary-Ellen will now go forward to the University-wide competition, with the University final taking place on 23rd June,  2016.
About the competition
The 3 Minute Thesis (3MT) competition requires doctoral researchers to compete to deliver the best research presentation in just 3 minutes (and one slide). It is based on a concept developed by the University of Queensland which quickly spread across Australia and New Zealand, and has gone global. 
This article was published on .