Destination Orkney for physics events and talks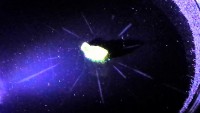 Colleagues from the School of Physics and Astronomy are looking forward to talking to local school pupils and running sessions at the Orkney International Science Festival which runs from 7-13 September 2017.
Learn how sounds are formed in different types of wind instruments and how insights into their acoustics can help when playing them and choosing them.  Clive Greated will deliver his talk on 'The sound of the Wind' at the Science Festival on 12th September. The talk, which will also be given to students at the Kirkwall Grammar School, will be illustrated by musical demonstrations.  Clive will be at the School of Physics & Astronomy stand at the Family Day on 9th September.
You may wish to construct a cloud chamber in a pint-sized glass and detect cosmic ray particles at the workshops delivered by Alan Walker on the Family Day at the Science Festival.  Alan will also run cloud chamber workshops at Kirkwall Grammar School and Stromness Academy.
School pupils may wish to learn about 'what we are made from', as Alan's interactive session for children from primary 4-7 will help them learn about atoms, as well as the subatomic particles - electrons, protons and neutrons - which form them.  By using coloured hats and t-shirts, pupils get the chance to represent one of these subatomic particles and then to construct a helium atom!
Finally, Peter Higgs is 'in conversation' with Dennis Canavan and Howie Firth, both former graduates of Physics and Mathematical Physics on 12 September.
This article was published on .