Mars isolation mission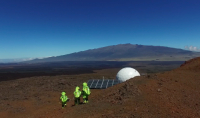 University of Edinburgh and UK Centre for Astrobiology PhD student Samuel Payler completes NASA's 8-month long HI-SEAS Mars isolation mission.
HI-SEAS (Hawai'i Space Exploration Analog and Simulation) is a habitat on an isolated Mars-like site on the Mauna Loa side of the saddle area on the Big Island of Hawai'i.  HI-SEAS studies the impacts of long term isolation on crew performance and cohesion in preparation for future missions to the red planet.  Samuel was serving as the Science Officer on the mission.
Prior to this project, Samuel worked on the UK Centre for Astrobiology's MINAR program, and NASA's BASALT project, both of which gave him the opportunity to learn about and contribute to aspects of technology development and mission support architectures for future Mars exploration.  HI-SEAS has now provided him with the astronaut's side of space exploration. 
Samuel commented:  "Knowing that information acquired from our mission will contribute to overcoming the problems caused by isolation, is well worth all the personal challenges imposed by living in a dome on the side of an active volcano with only shelf stable foods and five other people to talk to.  Luckily participation was made much easier by having an excellent crew.  Everyone worked extremely hard on everything from task work to personal relationships. We started the mission as strangers and are leaving as close friends."
This article was published on .