Understanding the puzzle of the χc1(3872) state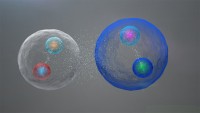 New precision measurements of the lineshape of the χc1(3872) are helping scientists to understand the nature of this puzzling meson.
Studies of hadron states allow us to understand the properties of the strong nuclear force that binds quarks together. Since its discovery in 2003 by the Belle collaboration there has been much speculation about the nature of the χc1(3872) state. Its properties are not consistent with it being a conventional charmonium state composed of a charm-anticharm pair. This has led to speculation that it is more exotic in nature, e.g. that is a four-quark state (tetraquark) or a bound DD* molecular state. Following the discovery of the χc1(3872) state there has been a resurgence in exotic spectroscopy and many new particles (the 'XYZ' states) have been reported.
The LHCb (Large Hardron Collider beauty experiment) collaboration has just released the results of two analyses that make precision studies of the χc1(3872)  lineshape using its decay to the J/ψπ+π− final state. Two models were used to study the χc1(3872) lineshape (Breit−Wigner and Flatté). For the first time a non-zero value of the natural width of this state is found. In addition, the precision on the measurement of the mass is improved by more than a factor of two. The difference of the χc1(3872) mass to the sum of the D and D* meson masses is found to be only 70±120 keV. The lineshape measurements hint towards the conclusion that the χc1(3872) has both charm-anticharm and molecular.
Dr Matthew Needham, Reader at the University of Edinburgh, who led one of the two studies commented:
These studies are really groundbreaking in terms of the achieved precision. The puzzle of the nature the χc1(3872) remains but these results will help us to piece together the puzzle. We are continuing to work on this subject and more results are expected in the future.
In particular it is planned to build on the Flatté fit model to make the first coupled channel analysis of the χc1(3872) lineshape in the J/ψπ+π− and DD* decay modes. In addition, the LHCb detector is currently being upgraded allowing an order of magnitude more data to be collected when the LHC restarts running in 2021.
This article was published on .