Astronomy Professor Elected FRSE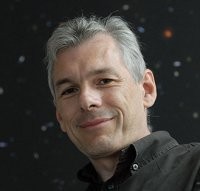 Alan Heavens, Professor of Theoretical Astrophysics in the Institute for Astronomy within the School of Physics and Astronomy is among 44 newly elected UK and International Fellows adding to the Royal Society of Edinburgh's almost 1500-strong Fellowship of experts in the Sciences, Arts, Humanities, the Professions, Industry and Commerce. Each new Fellow of the RSE is recognised within his or her peer group as having achieved excellence within their discipline or profession.
Fellows are encouraged to contribute to the aims and objectives of the Society, including the provision of expert policy advice to Government and Parliament, outreach education programmes for young people, and public engagement events including conferences and discussion forums.
This article was published on .