Student Awards and Prizes
Student Awards and Prizes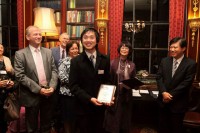 Congratulations to all our students who received medals and certificates in recognition of outstanding marks achieved during the 2011/12 academic year.
University awards
Certificates of Merit were given to 44 students from years 1 and 2 to recognise their achievement in Physics and Maths courses.
Class Medals were awarded to the Honours students with the highest overall mark for their degree programme, and to the Pre-Honours students with the highest marks in core and programme-related courses.
The Tait Medal and Robert Schlapp Prize is awarded to the student with the highest marks in Mathematical Physics. This year, it was decided to give this award to two equally exceptional students: Alastair Heffernan and Vladimir Prochazka.
The awards ceremony took place at the University's Playfair Library on 14 November 2012.
Anglo Thai-Society Academic Excellence Award
Wanaruk Chaimayo received the Anglo Thai-Society Academic Excellence Award 2012. He was presented with an engraved plaque and a cheque by the Ambassador of Thailand at a ceremony in the Oriental Club, London.
The Annual Awards are for Thai students in the final stages of their PHD research in the UK who have a record of outstanding performance during their time of study here. Wanaruk's PhD thesis is entitled 'Synthesis and high pressure structural studies of bismuth nanoparticles'.
This article was published on .