Edinburgh International Science Festival
Edinburgh International Science Festival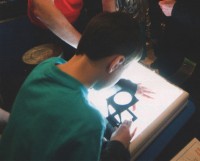 'Hunting the Higgs Boson' is the theme of the Particle Physics For Scottish Schools (PP4SS) exhibition at this year's Edinburgh International Science Festival. Honorary Fellow and PP4SS director Alan Walker will represent the School at the event in the Discover Science Zone in the National Museum of Scotland.
PP4SS aims to support physics teachers by introducing particle physics to school pupils, encouraging them to become engaged with the subject.
'Hunting the Higgs Boson' runs from 13-22 April at 10am-5pm each day.
This article was published on .