EUSA teaching award for Kristel Torokoff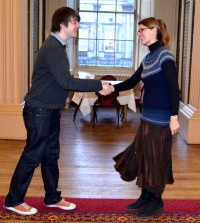 School Lecturer Dr Kristel Torokoff has been awarded a 'Feedback School Teaching Award' by Edinburgh University Students' Association (EUSA).
The awards recognise members of the teaching staff who have delivered great feedback in each of the University's Schools. This is the first year that EUSA has given Teaching Awards School by School, with the awards panels comprising School and Class representatives in each School.
Certificates were presented to the winners at a reception held in the Playfair Library in Old College.
This article was published on .