EUSA teaching awards success
EUSA teaching awards success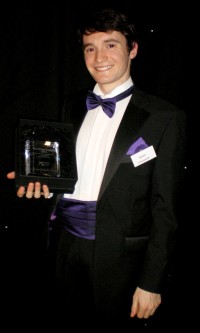 Physics wins for innovative teaching and best postgraduate tutor.
Two members of the Physics teaching team have been recognised in the 2011 EUSA Teaching Awards. The Vitae Award for Best Postgraduate Who Tutors went to Robert Concannon. Two other Physics postgraduates - Adam Apostoli and Kate Slaughter - were also nominated. For Adam, this was the third time in a row.
Simon Bates - who was a runner-up in the two previous years - picked up the Teach First Innovative Teaching Award.
This is the third year that EUSA has made the awards. A record 5,168 student nominations were received for 777 teachers, with 11 awards presented to outstanding members of University staff and postgraduate tutors.
Here are just a few of the comments left by students making nominations.

Simon Bates: award for Innovative Teaching

"Professor Bates puts a lot of energy into his lectures and interacts with the students extremely well... His use of clicker questions keeps his lectures interesting and fun, and allows the students to engage with the lecture content... One of the main aspects of why I think Simon was a good teacher is the fact that every week he would take the time to make screencasts for webCT. These would range from overall advice with studies to specific problems with the subject. This became very helpful as it was able to cover a lot of problems that couldn't be answered in lectures... This interaction outside lectures shows students that Professor Bates has a genuine interest in us all doing well in this course."

Robert Concannon: Best Postgraduate Who Tutors

"He has most definitely given me a deeper understanding of the course material... Rob has always been enthusiastic and incredibly encouraging even when I have been despairing that I would never understand and be able to get through the course material and problems set... He makes maths funny and the tutorials so much more enjoyable. He also readily gave up more of his time if you needed more help... He is brilliant at spotting where you are struggling with a question and diligently makes sure you actually understand everything... I honestly feel that without all his support, patience and determination I would not have managed to pass the course... I was so lucky to have him as a tutor."
This article was published on .