Higgs Centre award welcomed
Higgs Centre award welcomed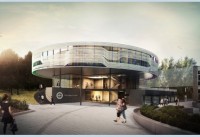 The Higgs Centre is to receive £2m support from the Scottish Government. The Centre, to be based at the University's Kings Buildings campus, will provide an iconic focus for research, postgraduate training, international visitors and companies engaged with these.
"I very much welcome this announcement from the Scottish Government. Its foresight and commitment in supporting world leading research will help to establish a fitting and lasting legacy for Professor Peter Higgs." Prof. Sir Timothy O'Shea, Principal, University of Edinburgh
"We are very pleased to see that the Scottish Government is committed to supporting blue skies research and training the next generation of young scientists." Prof. Richard Ball, Director of the Higgs Centre for Theoretical Physics, School of Physics & Astronomy
International focus
The Centre's research will be embedded in, and stimulated by, a programme of workshops that brings world-leading scientists and industry innovators to the Centre. Staff will work with industry affiliates and give them unparalleled access to facilities and data. An International Advisory Committee will oversee the research programmes and the Centre's overall strategy and any associated appointments.
Public engagement
The Centre will be involved in public outreach through lectures and other events. A further £2 million spread over five years will be used to support additional postgraduate opportunities in physics or mathematics.
School prizes
The announcement coincided with a ceremony at the Scottish Parliament to mark the launch of the new Higgs Prize, which recognises school pupils who have shown outstanding performance in the Advanced Higher Physics exam. Prof. Higgs joined the First Minister at Holyrood to present awards to the two inaugural winners: 18-year-old Lucy Willets-White and 17-year-old Peter Rhodes. Higgs Prize winners will visit CERN in Switzerland to take part in its summer school and a specially designed programme of events.
"Professor Higgs' achievements are hugely inspiring for our young people and his commitment to encouraging our next generation of scientists is well-known. It's very fitting that we mark his globally recognised work through the Higgs Prize... I'm delighted that, above all, Professor Higgs' achievements will continue to inspire future generations of Scots." First Minister of Scotland, Alex Salmond.
City celebration
Professor Higgs is to receive the Freedom of the City of Edinburgh at ceremony in January. He will be presented with the honour as part of an event, Edinburgh's Enlightenment Reborn, taking place at the University's McEwan Hall on 8 January.
During this event, the 2013 Nobel Physics Prize winners professors Francois Englert and Peter Higgs along with Professor Tom Kibble will discuss their role in developing the theory of the generation of mass for fundamental particles.
This will be followed by professors Fabiola Gianotti and Lisa Randall discussing where experimental and theoretical physics are likely to go after the discovery of the Higgs boson.
Video: Scottish First Minister interviews Prof. Higgs.
This article was published on .