School astronomers join Highly Cited Researchers listing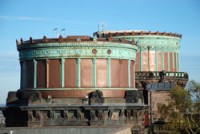 The Institute for Astronomy's John Peacock and Rob Ivison have been included in Thomson Reuters' Highly Cited Researchers listing for 2014, a compilation of influential names in science whose published articles rank among the top one percent of the most cited in their respective fields in the year of publication.
Of the nine UK space scientists to appear on the list, Professors Peacock & Ivison are the only two based in Scotland.
Find out more
About Highly Cited Researchers.
This article was published on .