IfA Research Fellow shortlisted For Women In Science Award
IfA Research Fellow shortlisted For Women In Science Award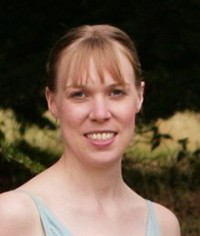 Dr Catherine Heymans, an Advanced Fellow of the Institute for Astronomy, has been named as one of the eight final candidates for the 2010 L'Oréal UNESCO 'For Women In Science' Fellowships.
The winner will be announced at an awards ceremony at the Royal Institution in London on 30 June 2010. Four outstanding female scientists will be awarded fellowships of £15,000 each.
Catherine's research interests lie in Cosmology and Extragalactic Astronomy and she has been shortlisted for her efforts to determine how Dark Matter is distributed throughout the Universe. If successful, she plans to use her grant to support research travel.
The four winners will be selected by a panel of eminent scientists, chaired by Baroness Susan Greenfield.
The fellowships, now in their twelfth year internationally, promote the importance of ensuring greater participation of women in science by offering awards to outstanding female postdoctoral researchers.
The fellowships have been designed to provide practical help for the winners to undertake research in their chosen fields. Winners may choose to spend their fellowship on whatever they need to continue their research.
The awards are run in partnership with the UK National Commission for UNESCO, the Irish National Commission for UNESCO and the Royal Institution of Great Britain.
This article was published on .