Industry Project Prize: winner announced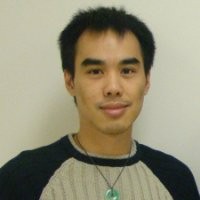 Congratulations to Stanley Tsang who has recently passed his MSc in High Performance Computing with distinction and has been awarded the School of Physics Industry Project Prize for 2013/14.
Stanley was awarded the prize in recognition of his dissertation project that he undertook with Keysight Technologies, the world's leading electronic measuring company. Stanley's project "GPU implementation of the Stable Marriage Problem" was judged by the School to have been the best industry project undertaken by this year's School of Physics Masters students.
The prize, kindly sponsored by Scottish Equity Partners, was announced at last week's Graduation Reception by Head of School, Professor Arthur Trew.
Unfortunately Stanley was unable to receive the prize in person as he has since returned to Canada to take up employment. We wish him all the best in his future career.
This article was published on .