Innovative Learning Week at the University
Innovative Learning Week at the University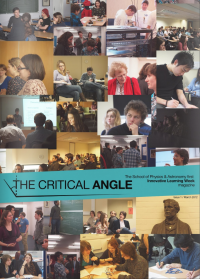 The University's first Innovative Learning Week took place in February. During the week, teaching on most courses was replaced by activities designed to explore new ways of learning and to improve our students' university experience.
With the job market increasingly competitive and additional activities important for CVs, Innovative Learning Week gave students an opportunity to participate in events that were experimental, innovative and fun but which also enhanced skills relevant to employability.
The School's programme provided a mix-and-match menu of talks, projects and workshops from which students could freely choose. There were events suitable for those aiming for leadership roles in society, for future entrepreneurs and for those interested in science communication and teaching. Students intending to take a Physics PhD and those who hope to use subject-specific skills like coding and mathematics could also follow their interests.
As part of the 'Communicators' strand, a group of First Year students produced a magazine, The Critical Angle, which reports and comments on the events of the week. The students who worked on the magazine demonstrated excellent teamwork skills in producing a publication with impressively high production values that is well-balanced and informative. Please take a look and magazine [at] ph.ed.ac.uk (subject: Critical%20Angle%20) (let us know) what you think.

This article was published on .