Kristel Torokoff wins student teaching award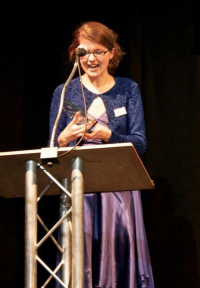 Dr Kristel Torokoff, a lecturer in the School of Physics & Astronomy, has been awarded the Simon Van Heyningen Award for Teaching in Science and Engineering.
One student who nominated Kristel described her as: "Most reliable and dedicated teacher you can encounter. Offers her free time to help and support students that have troubles in particular courses, organizing tutorial on Sunday/Saturdays or during lunch break. Helpful towards everyone, even students that are not in her courses." 
"This prize reflects just what bright and hard working students we have in Physics. It's a pleasure to be working with them." Dr Kristel Torokoff
Arthur Trew, Head of the School, said, "The University takes these awards very seriously so to have won is a great achievement for Kristel personally and for the School more generally. To have won it in the difficult area of teaching mathematics is doubly impressive."
Edinburgh University Students' Association announced the winners at an Oscar-style ceremony in Teviot Row House, hosted by the new University Rector, Peter McColl. Mike Williamson, EUSA VP Academic Affairs, said: "Students have shown their appreciation for good teaching once again. The judging panel was struck by the number of heart-warming comments from students who wanted to thank their lecturers, tutors and support staff. Hopefully the awards will continue to be a success for many years to come."
EUSA's Teaching Awards are in their fourth year, and the scheme is fully supported by the University. Each year has seen thousands of nominations by students of their lecturers, tutors, courses and departments. This year students were also able to nominate teaching support staff, which brought recognition for departmental secretaries, students who support other students' learning through peer-support schemes, and staff who support disabled students in their learning, among others.
This article was published on .