Meet the School's writer in residence, Pippa Goldschmidt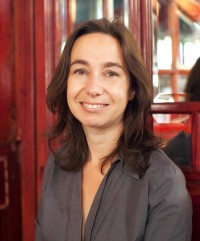 The School currently has a writer in residence, Pippa Goldschmidt. Pippa was formerly a professional astronomer but is now a fiction writer, interested in how scientists live and work. Here she explains her work.
I'm a writer of short stories, poetry and novels. My writing is influenced by science and my first novel 'The Falling Sky', about an astronomer who thinks she's found evidence contradicting the Big Bang theory, has just been published.
I used to be an astronomer myself, I did my PhD here at the Observatory and worked as a post-doc at Imperial College for several years before moving to the Civil Service and working in science policy. I've also been a writer in residence at the ESRC Genomics Research and Policy Forum (in this university) where I learnt a lot about genetics and its social impact, wrote short stories and poetry inspired by genetics and carried out public-facing activities such as running short story and poetry competitions aimed at encouraging other writers and readers to learn more about life sciences. This great experience made me think that perhaps I could do something similar in the School of Physics & Astronomy.
So whilst I imagine that the main purpose of my stay in the School is to sit quietly in a corner and learn about the research, I'm also keen to see if people here think that public outreach could usefully be done through the medium of fiction. For example, last year I took part in an event about astronomy and poetry at the Observatory to mark National Poetry Day. The audience seemed to enjoy it a lot.
Get in touch
I'm very keen to find out more about people's work, so please get in touch if you'd like to meet me for a chat about your research. You can find out more about me and my work at www.pippagoldschmidt.co.uk or email me at pippa.goldschmidt [at] ed.ac.uk
This article was published on .