MSc in High Performance Computing: Virtual Open Days
MSc in High Performance Computing: Virtual Open Days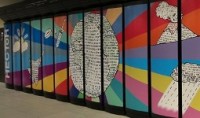 The School of Physics & Astronomy at the University of Edinburgh offers an MSc in High Performance Computing (HPC). This well-established programme provides an excellent grounding in HPC technologies and their practical application.
Virtual Open Days
The MSc in HPC team are organising three virtual Open Days this year:
Monday 18 March 12:00-13:00 GMT
Thursday 11 April 10:00-11:00 BST
Thursday 9 May 12:00-13:00 BST
These live sessions in the chat room will allow you to talk to staff and current students about applying for the MSc in HPC, studying in the University, living in Edinburgh and any other aspect of studying with us.
If you are interested in applying for the MSc in HPC, these virtual open days are a good opportunity to:
Talk to staff from the MSc in HPC
Discuss career opportunities and financial support
Meet current students
Scholarships
We are offering two UK/EU Masters scholarships in High Performance Computing for the 2013/14 academic year.
About the MSc
The MSc is taught by experts from EPCC, a supercomputing centre based in the School. EPCC is one of the leading centres of supercomputing expertise in Europe, and it manages an extensive collection of HPC systems including the UK's national supercomputer HECToR, a Cray XE system with more than 90,000 CPU cores. All our MSc students are given accounts on HECToR and use it extensively for practical exercises and project work.
High performance computing is widely used in science, engineering and industry. Many branches of modern science, such as climate research and nanotechnology, rely on complex computer models, which can only be run on parallel supercomputers. Companies involved in areas such as aerospace and automotive engineering, oil exploration, drug design and genetic sequencing all run computer models on HPC systems.
Furthermore, the parallel programming techniques that were once only applicable to specialist machines are now essential for any software developer who wants to take full advantage of modern multicore processors, graphics processors and computing clusters.
This MSc will equip participants with the multidisciplinary skills and knowledge to lead the way in the field of HPC.
Registration
Find out more
Visit the MSc in HPC website.
msc [at] epcc.ed.ac.uk (Contact us by email).
This article was published on .