MSc in High Performance Computing: Virtual Open Days
MSc in High Performance Computing: Virtual Open Days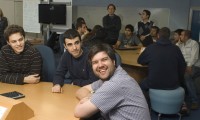 Our MSc in High Performance Computing (HPC) is a well established programme that provides an excellent grounding in HPC technologies and their practical application.
The Virtual Open Days are live sessions in chat rooms hosted by the MSc in HPC programme director, Dr David Henty. Presentations from staff are followed by a questions and answer sessions. Topics include an introduction to the MSc in HPC programme, course contents, career opportunities, financial support and other aspects of studying with us.
If you are interested in applying for the MSc in HPC, the Open Days are a good opportunity to:
• Talk to MSc staff
• Discuss career opportunities and financial support
• Meet current students
Upcoming ​MSc in HPC Virtual Open Days
​Thursday 29th March 20​12 13:00 – 14:00 BST
Wednesday 11th April 2012 12:00 – 13:00 BST
Thursday 10th May 2012 12:00 – 13:00 BST
The MSc and HECToR
The ​MSc is taught by experts from EPCC, a supercomputing centre based in the School. EPCC is one of the leading centres of supercomputing expertise in Europe, and it manages an extensive collection of HPC systems including the UK's national supercomputer HECToR. HECToR has recently been upgraded to more than 90,000 processing cores, making it one of the 20 most powerful supercomputers in the world.
All our MSc students are given accounts on HECToR and they use it extensively for practical exercises and project work. The parallel programming skills taught on the MSc are also essential in exploiting the power of modern multicore processors, computing clusters and graphics processors. The MSc in HPC opens up a wide range of further research and employment opportunities in computational science, software development and HPC support. Many MSc graduates continue to study or work at the University, with 20 students having found subsequent employment at EPCC.
Registration
To book your place, email your name and the session you would like to attend to: msc [at] epcc.ed.ac.uk
This article was published on .