Higgs Centre marks new phase with dedicated building
Higgs Centre marks new phase with dedicated building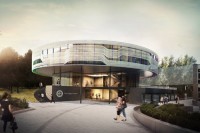 Support from the Scottish Government will help create a dedicated home for the recently established Higgs Centre for Theoretical Physics.
The Centre was created last year in Professor Higgs' name, following the discovery of the Higgs boson, the particle that was first posited by the Professor in the early 1960s. Its researchers will create an environment in which scientists and industry players from around the world can share and develop ideas about how to use novel mathematics and computation to tackle some of the 21st Century's great challenges.
The Higgs Centre will nurture new generations of leading physicists, whose ideas will transform fundamental physics and speed the translation of theoretical insights for commercial benefit.
In this second phase of its development, a new building will be created to house the Centre. This will be adjacent to the School of Physics & Astronomy's base on the University's science campus, King's Buildings, where the Higgs Centre currently operates.
"We are delighted that the University and the Scottish Government have agreed to support us so wholeheartedly, and in particular made a commitment to create a new building to house the Centre. We see this as the second phase of a sequence of steps to secure Peter's legacy for generations to come." Prof. Richard Ball, Director of the Higgs Centre
Lasting legacy
The University of Edinburgh's Principal and Vice Chancellor, Professor Sir Timothy O'Shea, talks about how the Scottish and Westminster governments will support the project.
"Mike Russell, the Cabinet Secretary for Education, has shown a huge commitment to the University and its research and has offered warm congratulations to Professor Higgs and the University, not just on the Nobel Prize, but on these plans to create a lasting legacy from the prize." Professor Sir Timothy O'Shea, Principal, University of Edinburgh
"The Nobel Prize awarded to Peter Higgs earlier this week is a further reflection of the excellent research at Edinburgh and I have invited the University to bid to the Science & Technology Facilities Council for support for the Higgs Centre." David Willetts, UK Minister for Universities and Science
This article was published on .