School researcher wins Very Early Career Women in Physics Award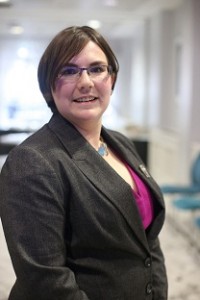 Anne Pawsey, a PhD student in the School's Soft Matter Physics group, has been awarded the 2013 Shell and Institute of Physics Very Early Career Women in Physics Award.
The award for excellence in physics as well outreach was presented at a ceremony at the Institute of Physics in London in October. Head of School Prof. Arthur Trew and Anne's supervisor Dr Paul Clegg also attended the ceremony.
 "I'm delighted to receive this award and I'd like to thank my supervisor who has supported me scientifically and all the DTC students who joined in so enthusiastically with the outreach." Anne Pawsey
Prior to the prize being awarded, Anne and the other short-listed candidates each gave a presentation about their work to an audience of the Women in Physics group committee, colleagues and friends. Anne spoke about her PhD research into colloidal particles at liquid crystal interfaces and about her role in setting up the outreach programme for the Scottish Doctoral Training Centre in Condensed Matter Physics (CM-DTC). The CM-DTC outreach programme includes a wide range of activities, from working with school science clubs to events at the National Museum of Scotland. Anne has also performed stand-up comedy about her research at the Edinburgh Fringe as part of Bright Club.
About the Award
The award is given for excellence in scientific work as well as in outreach to a woman who has gained her first degree in physics within the last five years and is an inspirational role model for women in physics. It is organised by the IOP's Women in Physics Group (WPG) and the £1,000 prize is sponsored by Shell.
This article was published on .