Science meets art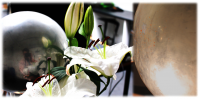 A collaboration between the School and Edinburgh College of Art has resulted in an award-winning photograph.
School lab managers Sarah Brown and Joe Rendle worked with Product Design student Joshua Notley to produce "Floral attraction: A world without bees".
The photograph won second prize in the Agri-Science category of the 'Picture This' competition run by Edinburgh Research and Innovation, which invited Edinburgh staff and students to submit images in a range of categories relating to the University's research activities.
"The photograph was taken for Joshua Notley's course work for his studies at ECA in collaboration with technical support and editing from Joe and myself, so Josh is the creative one although we all have an interest in photography." Sarah Brown
"Floral attraction: A world without bees"
A Van de Graaf generator produces a strong electrostatic charge. This photograph illustrates the generator attracting a stream of pollen onto its metal dome. We propose an idea utilising similar technology for the collection of pollen from plants. In an environmental landscape where bee populations are dwindling the sustained pollination of plants should be considered. When the dome of the Van De Graaf generator is earthed the pollen is no longer held in place by the electrostatic force and falls from the surface, ready for collection and dissemination as required.
This article was published on .