Prof. Higgs collects Nobel award
Prof. Higgs collects Nobel award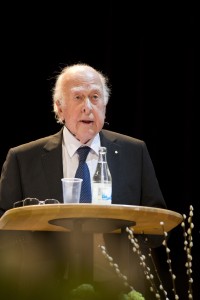 The distinguished scientist Professor Peter Higgs has been honoured by the Royal Swedish Academy for his work in predicting the Higgs boson particle.
Prof. Higgs came up with a theory for the particle, which is fundamental to the laws of physics, when he was a researcher at the University of Edinburgh in the 1960s. Its existence was confirmed almost 50 years later, in 2012, by the CERN research facility near Geneva. Prof. Higgs shares the 2013 Prize with Prof. Francois Englert of the Free University of Brussels, who independently researched the same theory.
Professor Higgs and other Nobel laureates will be presented with a medal and diploma by the King of Sweden at a formal ceremony at Stockholm Concert Hall. Presentations are followed by a banquet for laureates, their families and other guests at Stockholm City Hall.
"I am overwhelmed to receive this award and thank the Royal Swedish Academy. I would also like to congratulate all those who have contributed to the discovery of this new particle and to thank my family, friends and colleagues for their support." Prof. Higgs
Building on the Higgs legacy
Higgs Centre for Innovation
The University of Edinburgh is building on the Higgs legacy by developing its expertise in physics. The University has welcomed the recent award of £10.7 million from the UK Treasury to create a Higgs Centre for Innovation. The Centre will be based at the Science and Technology Facilities Council's (STFC) UK Astronomy Technology Centre (UK ATC), at the Royal Observatory Edinburgh.
Higgs Centre for Theoretical Physics
The University aims to create a new home for the Higgs Centre for Theoretical Physics at the University's King's Buildings campus. The Centre was created in 2012, following confirmation of the existence of the Higgs boson particle. Two new MSc programmes in Theoretical Physics and Mathematical Physics were also established as part of the Higgs Centre for Theoretical Physics.
Free online course
The University will soon begin delivering a free online course giving insight into the work of Professor Higgs. The seven-week course, the Discovery of the Higgs Boson, features interviews with the Professor and filmed lectures by other physicists at Edinburgh. The University is offering the Massive Open Online Course (MOOC) via the FutureLearn platform.
Prof. Higgs' Nobel Lecture
Profs Higgs and Englert presented lectures to an audience in Stockholm ahead of the Nobel ceremony. This video shows Prof. Englert's Nobel Lecture, The BEH Mechanism and its Scalar Boson, and Prof. Higgs' Nobel Lecture, Evading the Goldstone Theorem.
This article was published on .