School awarded Juno Champion status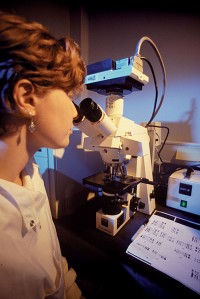 We are delighted to announce that the School of Physics & Astronomy has been recognised by the Institute of Physics (IOP) for its actions to address gender inequities across its student and staff body.
In awarding the prestigious Juno Champion status to the School, the IOP highlighted the clear and strong commitment of senior management to equality and diversity in the workplace, and particularly applauded the School's progress in redressing historical gender imbalances in university physics.
"The Juno process gives us a wonderful opportunity to stand back and look at the changes we've made over the past 10 years, and celebrate the improvements that make the School a great place to work and study." Prof. Cait MacPhee, Institute for Condensed Matter and Complex Systems
"This award reflects the widespread desire within the School to ensure that in our pursuit of excellence we enable all to flourish. I am really pleased by the steps that we have taken and the commitment that everyone has shown to win us this prestigious award." Prof. Arthur Trew, Head of School
To achieve the new status, we demonstrated progression against a range of Juno principles set up to improve the working culture. This is reflected in, for example, a high degree of overall satisfaction with the workplace, as expressed by staff members at all grades. Moreover, in contrast to national trends, there is no evidence for a "leaky pipeline" of women from the School as they progress from undergraduate through postgraduate to postdoctoral level. The award also celebrates the 5-fold increase in the proportion of female staff, and our increased levels of support for early career researchers, since we began the Juno journey in 2004.
The School of Physics & Astronomy joins a growing list of eight other physics departments named Juno Champions in the UK and Ireland, and is the second such award made to a Scottish Physics department.
The School's Juno committee comprised Richard Blythe, Toni Collis, Ashley Cooke, Robyn Donnelly, Louise Ferguson, Cait MacPhee, Gill Maddy, Salomé Matos, John Peacock and Kate Slaughter.
Juno Code of Practice and level of engagement
The IOP's Code of Practice was developed in response to a recommendation of the International Perceptions of UK Research in Physics and Astronomy report that a special focus to attract and retain women in physics is needed.
The Code is based on best practice identified from IOP's "Women in University Physics departments: A Site Visit Scheme", which ran from 2003 to 2005. It sets out practical ideas for actions that departments can take to address the underrepresentation of women in university physics and emphasises the need for dialogue, transparency and openness.
There are three levels of engagement with the Code:
As a Supporter, physics departments endorse the five principles set out in the Code of Practice.
Practitioner status requires the department to demonstrate that its Juno journey is well underway and an initial evidence-based action plan demonstrating how the department aims to achieve Champion status is created.
As a Champion, physics departments are confirmed to have met the five principles set out.
There are now 9 Champion departments, 13 Practitioners and 24 Supporters.
This article was published on .