School graduate scoops top prize at international enterprise competition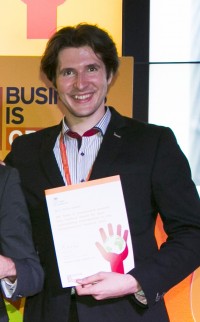 School graduate Flaviu Cipcigan fought off stiff opposition to be awarded a prize at a 'Dragon's Den' style competition during the UK Trade & Investment (UKTI) Entrepreneurs' Festival in Manchester. Flaviu was part of the 'FiTogether' team, which comprised participants from six countries and five continents.
FiTogether's innovative concept aspires to develop an interactive app which will instantly connect like-minded fitness enthusiasts to make fitness more fun, social and effective. The team's impressive skills secured them the Best Pitch prize, which includes a two-hour mentoring session with the Business Growth Hub/Enterprise Lab to help them develop their own ideas.
"Winning this award has given us all great confidence in our entrepreneurial ability. Not only was this competition a great opportunity to work as a team with people from all over the world, it allowed us to each develop our business acumen too." Flaviu Cipcigan
Flaviu is one of the School's industry-supported graduate students. He works with The National Physical Laboratory and IBM Research in the US.
Entrepreneurial support for students and recent graduates
The international enterprise competition was held to mark the launch of The Sirius Programme. Spearheaded by UK Trade & Investment (UKTI), The Sirius Programme is a pioneering scheme to bring the world's best entrepreneurial talent to the UK.
The 12-month start-up support and acceleration package is open to students and recent graduates with an early-stage business idea or business plan. Successful applicants receive a full range of support including investment, a place in one of the world's best business accelerator programmes, mentoring and logistical help with relocating to the UK. Places will be allocated each month between October 2013 and January 2014, and the deadline for entries for November's intake is 31 October 2013.
Nick Baird, Chief Executive of UKTI praised Flaviu on his achievement:
"I congratulate Flaviu on winning this award. The calibre of all the entrants from the Festival was superb, but Flaviu and his team had the edge across the board. It is great to hear that they will be applying for the Sirius Programme as this is be one of the most comprehensive start-up support packages offered globally, and the best in Europe. The quality of the participants at the Festival highlighted the potential and enthusiasm of these young entrepreneurs and we look forward to supporting entrepreneurs like them as they establish their business ventures in the UK."
This article was published on .