Science Education Research distance learning courses launched
Science Education Research distance learning courses launched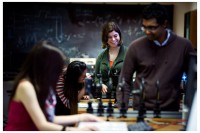 Two innovative professional development courses for educators involved in the design and delivery of science teaching at secondary level or early-years HE will be offered by the School from September 2012 as part of the University of Edinburgh's Distance Education Initiative.
These Research-Informed Science Education (RISE) courses - 'Research Based Instructional Strategies in the Science Classroom' and 'Technology Enhanced Learning in the Science Classroom' - are Masters level courses that can form the basis of a Postgraduate Certificate in Science Education Research. The courses are endorsed by the Institute of Physics and the Royal Society of Chemistry.
The RISE courses are strongly aligned to the research activities of the Edinburgh Physics Education Research group (EdPER) and will appeal to teachers who have been away from formal study for some time and wish to undertake accredited CPD (continuing professional development) without taking extended leave from the classroom.
Further information
To find out more contact Crystal Lei, RISE course secretary:rise-info [at] ed.ac.uk
This article was published on .