Sculptured tribute to the Higgs Mechanism theory
Sculptured tribute to the Higgs Mechanism theory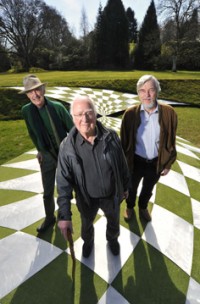 Prof. Peter Higgs, the Emeritus Professor whose theory of particle physics has dominated the discipline for decades, met Professor Rolf-Dieter Heuer, Director General of the European Organisation for Nuclear Research (Cern), and Dr Charles Jencks, landscape architect, at Dr Jencks' home, Portrack House, near Dumfries.
Cosmic garden
While at Portrack House, the guests enjoyed a tour of Dr Jencks' Garden of Cosmic Speculation, which includes a sculpture of the standard model of physics.
The standard model is a theory which brings together fundamental elements of the science of physics. It includes the Higgs boson particle, which was first postulated by Professor Higgs when he was a researcher at the University in the 1960s.
Cern project
Dr Jencks is in discussions to design a garden at Cern, the physics laboratory near Geneva that is expected to uncover evidence of the theoretical particle.
Image gallery

Prof. Peter Higgs and the sculpture of the standard model of physics.
This article was published on .