SOUND in a man-made environment
SOUND in a man-made environment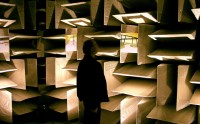 'SOUND in a man-made environment' is a project that considers the effects of background noise produced by technology. The 'Sound' exhibition has been shown in leading exhibition centres around the world and has featured on both radio and television. It is now supported by a dedicated website where visitors can read about the scientific and environmental aspects of noise, see images from the exhibition and play clips from its soundscapes. You are also invited to contribute your own comments to the site.
The public engagement project 'SOUND in a man-made environment' is funded at the School of Physics and Astronomy by the Engineering and Physical Sciences Research Council in partnership with the National Physical Laboratory.
This article was published on .