SOUND success in Glasgow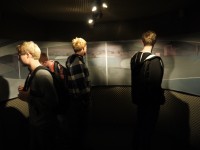 The SOUND exhibition combines soundscapes and artwork to examine how we are affected by industrial and urban noise. It has toured in the UK, India and Belarus and is currently installed in the Briggait Centre in Glasgow, where it was visited by over 1,000 people in the opening weekend.
The exhibition features a new semi-anechoic installation with surround sound and a binaural soundscape to reproduce the experience of hearing 'live' sounds. There is also a new video about sound made in the School of Physics and Astronomy.
'SOUND in a Man-Made Environment' is funded through the School of Physics and Astronomy by the Engineering and Physical Sciences Research Council. The Glasgow exhibition runs until October 10th.
More details about the exhibition and a list of the venues where it has been shown can be found on the SOUND website - see below.
This article was published on .