SUPA Prize PhD Studentships
SUPA Prize PhD Studentships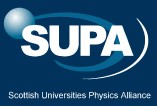 Up to 15 fully-funded Prize PhD Studentships and over 100 other funded PhD places available in Physics in Scotland.
The Scottish Universities Physics Alliance (SUPA) opens a single door into all Physics PhDs in Scotland. When you apply for a SUPA Prize PhD Studentship, you will also be considered for all other funded places available in Physics departments in Scotland.
Themes
Major themes pursued by researchers in SUPA are:
Astronomy and Space Physics
Condensed Matter and Material Physics
Energy
Nuclear and Plasma Physics
Particle Physics
Photonics
Physics and Life Sciences
Eligibility
All Physics PhD students in Scotland are considered SUPA Graduate School students and are eligible to attend all educational and training activities.
Deadline
Applications must be made by 31st January 2013.
This article was published on .