University's supercomputing centre joins world's elite Intel® Parallel Computing Centers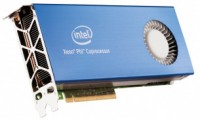 EPCC, the supercomputing centre at the University of Edinburgh, has been designated an Intel Parallel Computing Center (IPCC) through a prestigious grant from Intel – a distinction currently held by only a handful of parallel computing centres worldwide.
Through this new partnership, EPCC will collaborate with Intel to optimise several open source high-performance computing (HPC) applications for Intel's latest parallel processor architectures.
Incredible opportunity
Designation as an IPCC gives us an incredible opportunity to work on a range of important, and widely used, simulation codes to ensure that they can utilise the latest Intel hardware effectively. ARCHER, the UK's national HPC service hosted and supported by EPCC is a Cray XC30 system with Intel® Xeon® Processor E5-2697 v2," continued Mark. "It is therefore essential that mainstream simulation packages, which account for more than half the usage of ARCHER, are properly optimised to get maximum benefit from this technology. Prof. Mark Parsons, EPCC Executive Director (Research & Commercialisation).
"The centre will build on a range of world-class projects, collaborations, and initiatives that EPCC is currently involved with, including European HPC projects such as PRACE and CRESTA and global simulation initiatives, such as the G8-funded Nu-FuSE project," said Adrian Jackson, Research Architect at EPCC and leader for EPCC's involvement in NU-FuSE.
Dr Michèle Weiland, Project Manager at EPCC, said: "The initial target for optimisation and porting work are codes that EPCC is already very familiar with, have had experience parallelising and optimising for standard distributed memory parallel systems, and are used by a wide community of simulation scientists for world leading science on global challenges such as energy security, climate change, and future manufacturing technologies."
"Intel is pleased to expand our Intel® Parallel Computing Center program in collaborating with EPCC," said Bob Burroughs, Director of Technical Computing Ecosystem Enabling at Intel. "This new centre creates an opportunity for Intel and EPCC to innovate and optimize applications which benefit industry and science in Europe and globally."
Performance tuning
EPCC's Application Consultants, who are experts in the performance tuning of HPC modelling and simulation codes, will undertake the code porting and optimisation tasks. A further aim of the IPCC is to leverage the world-leading hardware available at EPCC, and its extensive training programmes, to provide training and expertise to a wider range of academic and industrial participants in the UK and Europe on efficiently using Intel hardware for computational simulation.
This article was published on .