Justin Whitehouse
Coronavirus (Covid-19) updates
If you are a prospective student please see the University's Covid-19 webpages for up-to-date details, advice and support.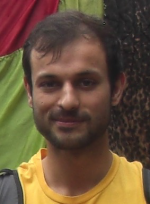 The School has also been helpful towards developing my professional skills.
When looking for a PhD position I was keen to find somewhere that not only performed research that really interested me but also was highly rated across the UK and the world. In the Institute of Condensed Matter and Complex Systems (ICMCS) in the School of Physics and Astronomy I found just that. Once I started I was pleased to find that I had joined a friendly and engaging group of PhD students from across the School and not just my own research group. I was also very lucky to find myself in a research group with a good attitude and atmosphere across all members, from the newest students to the most senior research staff.
Aside from the opportunities to travel around the world, being part of the ICMCS has exposed me to a broad range of scientific fields and approaches to research. I've had the opportunity to be independent and choose the direction of my own research, while also being able to draw on the varied expertise of my academic colleagues, who are always happy to offer help and advice. The School of Physics has also been helpful towards developing my professional skills as well. There are regular opportunities to give presentations, and there are regular courses on this subject, as well as on more technical subjects such as shell scripting.
Finally, I knew very little about Edinburgh or Scotland before I moved up here, and since finishing my PhD I'm staying put! I am now moving into a career in financial services based in Edinburgh. Edinburgh itself is a fantastic city to live in. Although it's a little more chilled out than somewhere like London there are lots of varied options for entertainment in the evenings and weekends, and it's a fantastic base from which to get outside and be active or just relax. Climbers, cyclist and runners are everywhere! I played football with a team of Physicists, joined the University Hillwalking Club to see the highlands, and did some orienteering too - all things I hope to continue doing in Edinburgh in the future!
This article was last updated on .