Elite research centre to build on Higgs' Nobel legacy
Elite research centre to build on Higgs' Nobel legacy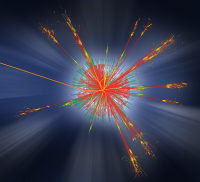 The Higgs Centre for Innovation will provide a dedicated forum to link scientific and engineering expertise with industry leaders.
The new facility will build on the legacy of the achievements of Prof. Peter Higgs, who this year was awarded a Nobel Prize for Physics for his contribution to the theoretical work which led to the prediction of the Higgs boson particle.
The Centre, which has received capital investment of £10.7million, will create a world-leading facility for inspiring the next generation of scientists and engineers through providing start-up business support and opportunities for new partnerships.
It will be based at the Science and Technology Facilities Council's (STFC) UK Astronomy Technology Centre (UK ATC), on the Royal Observatory Edinburgh campus.
Today's announcement builds on the support already committed by the Scottish Government for a Higgs Centre for Theoretical Physics based at the University of Edinburgh, announced in October. Two new MSc programmes in Theoretical Physics and Mathematical Physics were also established as part of the Higgs Centre for Theoretical Physics.
This investment, along with the pledge of £100,000 from a highly-valued supporter of the University, Prof. Walter Nimmo, will help create a dedicated training environment for new generations of leading physicists.
"This support from the Treasury and the STFC will create an environment in which future generations of scientists from around the world can share and develop ideas in theoretical physics." Prof. Peter Higgs
The Principal of the University of Edinburgh said the support for two world-leading Centres will put the UK on the map as the focal point for training and research in the field of theoretical physics.
"This Centre for Innovation will focus on incubating new companies and on start-up business support. It will house up to 12 small, new companies, as well as providing accommodation for some academic staff and PhD students. Our aim is that these students will be able to obtain a richer experience by rubbing shoulders with industrialists, as well as academic researchers." Prof. Arthur Trew, Head of the School of Physics & Astronomy
This article was published on .