EUSA Teaching Awards 2014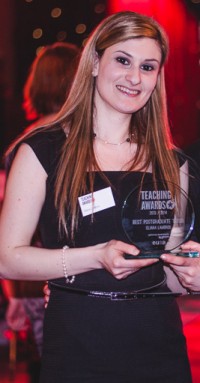 Congratulations to Eliana Lambrou, who has won the Best Postgraduate Tutor Award at EUSA's Teaching Awards. Charles Cockell was runner-up for the Van Heyningen Award for Teaching in Science and Engineering.
Best Postgraduate Tutor Award
This award recognises postgraduate tutors who:
• Stimulate interesting and engaging discussion in tutorials
• Make lab demonstrations fun
• Provide helpful feedback on students' work and are approachable with questions.
"The act I most admire her for was volunteering her own research time to tutor students in one-to-one sessions after class... She is a very modest woman and would not think she is worthy of this praise but her actions prove otherwise." Student nomination for Eliana Lambrou
Eliana Lambrou, who is based in the School's Particle Physics Theory group, said: 'I was delighted when I received the invitation for a fancy, black-tie event for the Teaching Awards, at which I was nominated for the Best Postgraduate Tutor Award. It is always good to see that your work is recognised by the students and I want to thank each of them for this acknowledgment. Their feedback on our teaching just makes us better!!! 
'I want to thank my fellow tutors because of their big contribution in the effort to deliver good and useful tutorials, but mostly a big thank you goes to the organiser of the courses that I was tutoring, Kristel Torokoff, who has been a lovely teaching mentor and an inspiration to me.'  
The Van Heyningen Award for Teaching in Science and Engineering
Charles Cockell, Professor of Astrobiology, was runner-up for this award. He said: 'I'm really delighted to be nominated by my students. Most importantly it shows an enthusiasm for the teaching of interdisciplinary science.'
"All of the students agree that he is not just an international superstar professor who has worked for NASA, he is also the best professor in general... when he delivered the last lecture in astrobiology dressed up as an alien, who had to feed every ten minutes, we could not help it: we were all in love with this amazing educator from another world!" Student nomination for Charles Cockell
This article was published on .