Young Academy of Scotland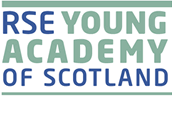 Duncan Forgan and Tiffany Wood have joined the Royal Society's Young Academy of Scotland, a body of individuals who have demonstrated outstanding ability in their work.
Duncan Forgan, Institute for Astronomy, is among the youngest members. He said: "The Academy boasts an impressive membership of talented people from across all disciplines, and I am honoured to be counted amongst them. I'm looking forward to meeting my fellow members, and to contributing to the Academy's influential voice on issues that affect us all." 
Tiffany Wood, Edinburgh Complex Fluids Partnership, said: "I feel excited and honoured to be joining the talented and dynamic individuals at the Young Academy and working together to seek solutions to civic challenges."
The induction event will be held at the RSE on April 29th.
About the Young Academy of Scotland
The RSE Young Academy of Scotland fosters interdisciplinary activities among emerging leaders from the disciplines of science and humanities, the professions, the arts, business and civil society. It is part of a growing international movement in which national academies are establishing young academies across Europe and beyond.
This article was published on .