Statistics-old
In the interest of the privacy and safety of our staff and students, the following statistics are based on aggregated data of only those who identify as men or women. We did not include the numbers of those who do not represent either, as such data may lead to them being easily identifiable. Unfortunately, due to the way that University data is collected, we had to use the terms 'male' and 'female' in the figures below.
Statistics for the School of Physics and Astronomy
The following graphs and information are some highlights from our 2018 IoP Juno Champion report.
Female Undergraduate Intake
The proportion of women in our undergraduate intake (23%, 40%, 32% in the last three years) is consistently above the UK average of 21%. In 2017/18, we saw a sharp rise from 23% to 40%. As we are not aware of more girls taking A-level or Higher physics, we suspect this may be as a result of efforts to make UG recruitment more "friendly".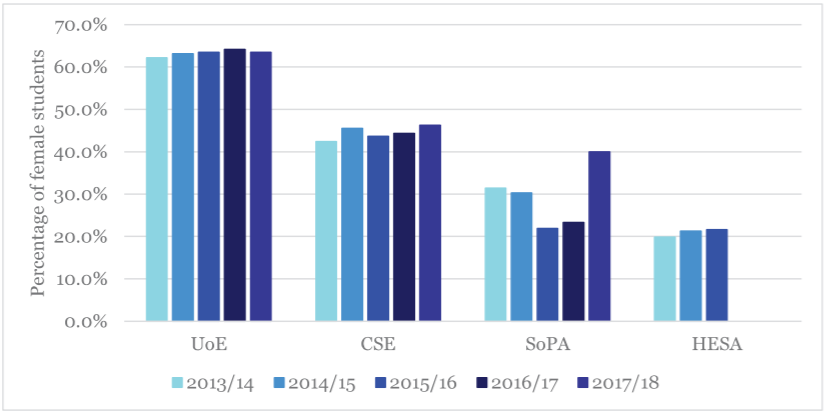 Figure 1: Percentage of female UG entrants in the School of Physics & Astronomy (SoPA) across all Physics & Astronomy (P&A) degree programmes, compared with the College of Science and Engineering (CSE), and the University as a whole (UoE). Higher Education Statistics Agency data (HESA) is for 1st year UG students from Physics and Astronomy degree programmes across all UK Higher Instituations.
Postgraduate Entrants
School of Physics and Astronomy's intake of female PGR students (SoPA-F) shows a general increase over time. Notably, we are attracting more female PhD students than the benchmarking data (BM-F) for the last few years of available data.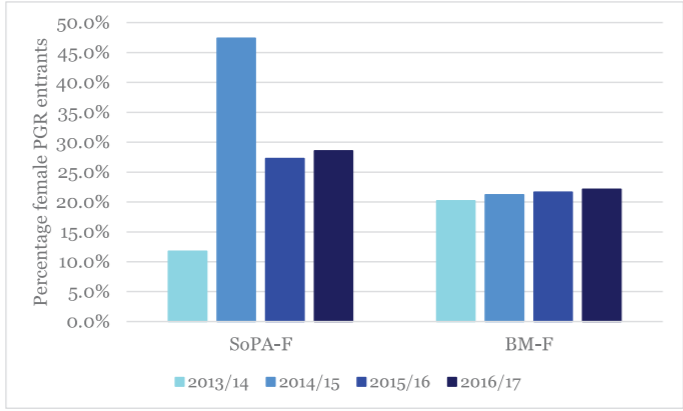 Figure 2: Percentage of female Postgraduate entrants for the School of Physics and Astronomy compared to bench-marking data provided by the IOP Juno team.
Staff Distribution Over Academic Grades
Data has been aggregated into multiyear periods to improve small-number statistics. Considering this data, there is a clear decreasing trend in the percentage of female staff members with increasing grade, but improvements can be seen at UE07, UE09 and UE10 in recent years.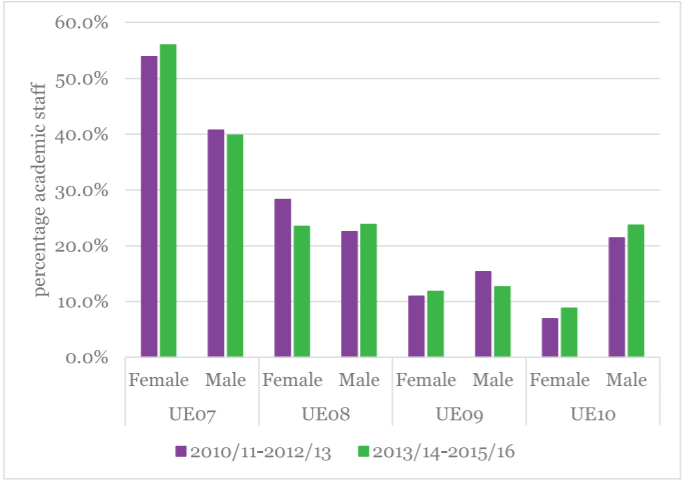 Figure 3: Percentage of academic staff at each UoE paygrade, split by sex, averaged over 3-year periods: UE07 (PDRA), UE08 (lecturer), UE09 (reader/senior lecturer), UE10 (professorial). The vertical axis is a measure of how likely it is that one is at a specific paygrade given that one is female or male. For example, the bar on the left means that, averaged over 2010-2013, 53.9% of female academic staff was at grade UE07. In 2015/16, the overall percentage of female academic staff was: 20.7%.
Recruitment
One way we are working to increase the number of female applicants is by advertising jobs on the WISE Campaign (Women Into Science and Engineering) website, as well as our own job site (My Career Hub), and indeed.com. Job applicant feedback is provided if requested, regardless of whether the candidate attended an interview. We will monitor whether using WISE increases the number of female applicants.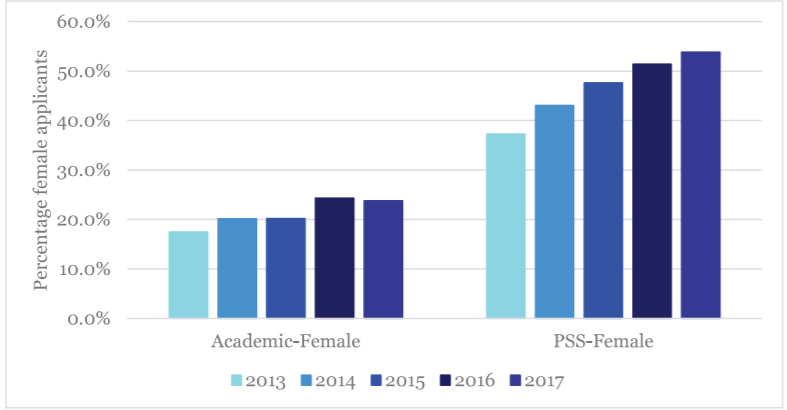 Figure 4: Percentage of female applicants to the School of Physics and Astronomy (SoPA) vacancies, split by Academic and PSS (professional/support staff) job types.
Statistics for the University as a whole
The University of Edinburgh currently publish their own reports and research for equality and diversity monitoring. This information can be publically accessed through their Equality and Diversity website.
Equality Diversity Monitoring and Research Committee (EDMARC)
This article was last updated on .