Keith Brunton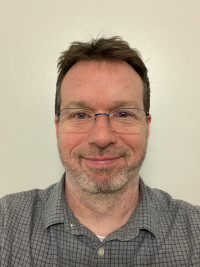 Mr K Brunton
Keith is a member of the following School research group:
Biographical statement
I am a web and e-learning developer within the school - attached to both the webteam and e-learning group. Most of my time is spent developing/maintaining e-learning and e-admin web applications - a list is included in 'Projects' below. Recently I've finished working on the part-JISC-funded EVAF4All Project looking at the design and practical implementation of a EVS-vendor-neutral system to make 'clicker' votes available on the web to students to provide feedback and perhaps direct revision. Further information about the e-learning group can be found at our elearning group website
As a webteam member, I'm involved with development, maintenance and management of the school's Drupal instance and other web services.
I am a member of the ELPP committee and, among other things, help organise events on behalf of the university's learning technologists - see ELPP wiki. Also I am a steering group member of ESTICT - a special interest group set up to cater for those in the UK HE/FE community who are interested in the use of technology in the classroom - and EVS in particular - see the ESTICT site (Ning network).
Interests
Voting technologies and their uses within HE/FE
Podcasting
Maths on the web - particular the use of ASCIIMath
Projects
EVAF4All - a freely available web-based tool for students and staff to get feedback on the data captured using 'clickers' in lectures.
SignUpTool - a tutorial and project sign-up/allocation system used within Physics and some other schools in college
Podcasting - a tool to help with publication and presentation of podcasts
Publications/Conferences
Peer Reviewed Papers
2010: "Closing the feedback loop for clicker questions" Simon P. Bates and Keith J. Brunton. New Directions: the Journal of the Higher Education Academy Physical Sciences Centre - vol 6 2010 Available online from http://www.heacademy.ac.uk/physsci/publications/newdirections
2007: "Assessing the impact and effectiveness of podcasts as pre-lectures". Simon P. Bates, Adam Stevens, Marialuisa Aliotta and Keith Brunton, Research proceedings of the 14th Association of Learning Technology Conference (Alt-C 2007)
Conference Presentations and Proceedings
2009: "Closing the feedback loop", Keith Brunton, PRS User Group Presentation, Nov2009 - (PDF)
2006: "Technical aspects of developing web-based Maths-aware assessment systems" Keith Brunton, David McKain, Simon Bates & Antony Maciocia, at Continuing Excellence in the Teaching & Learning of Maths, Stats & OR (CETL-MSOR) Conference (2006) Link to Proceedings
Books/Chapters
1. Book chapter: "Assessing the potential and impact of podcasts as pre-lectures"

Marialuisa Aliotta, Simon Bates, Keith Brunton and Adam Stevens
Chapter in Podcasting for Learning in Universities, Eds Prof Gilly Salmon and Dr Palitha Edirisingha OUP 2008 ISBN 0335234291 - see http://www.atimod.com/podcasting/index.shtml.
This article was last updated on .